The Process of Building a Home
Posted by Mike Broadhurst on Thursday, August 18, 2022 at 3:03 PM
By Mike Broadhurst / August 18, 2022
Comment
After the designs and blueprints have been finalized and your permits have been approved, that's when construction starts and your home begins to take shape, generally following these steps: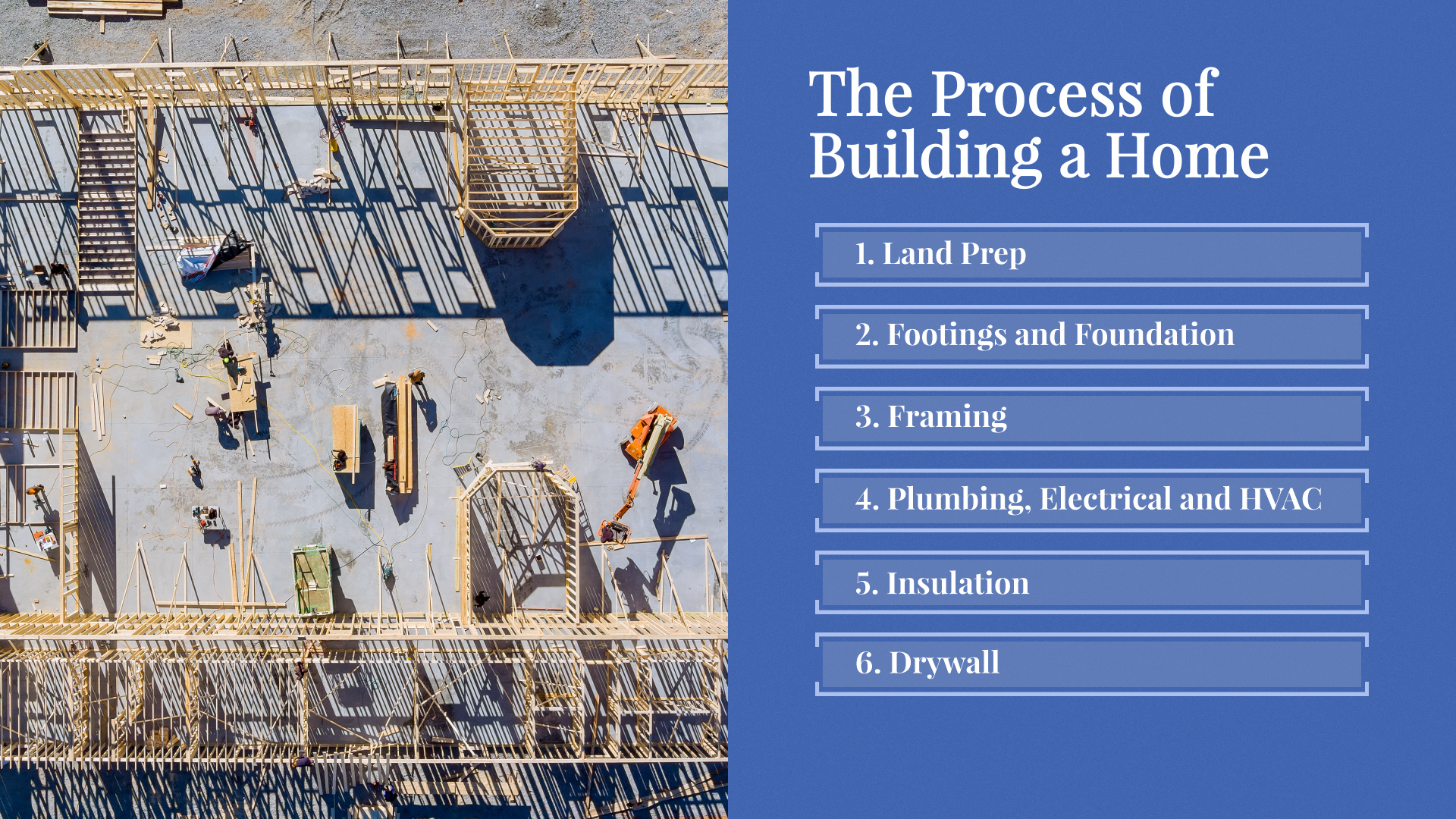 1. Land prep
The first step in the construction process is getting the land ready. This includes clearing the area, digging trenches and making sure utilities are installed.
2. Footings and foundation
Your foundation will be made of poured concrete reinforced with steel rods. Depending on the part of the country you're building in and the design of your home, you may have a slab foundation, crawl space or a full basement. No matter what kind of foundation is poured, it will be sprayed with a waterproofing material and inspected by the city before framing begins.
3. Framing
In the framing step, the bones of the home start to take shape. Framing includes the floor joists, subfloors, studs that form the walls and roof trusses. During this step, the crew will wrap the house to protect it from moisture. If construction is taking place during a rainy time of year, your builder may also install windows, roof shingles and siding during this step.
4. Plumbing, electrical and HVAC
Once the home is "dried in," subcontractors will start installing the home's major systems, including plumbing pipes, electrical wiring and heating and cooling ducts. Each of these steps requires signoff from a local inspector.
5. Insulation
Your home's insulation needs will vary by climate, but in general, insulation will be applied to exterior walls, basements, crawl spaces and attics. Fiberglass, cellulose and foam insulation are all options.
6. Drywall
Drywall panels are hung with screws, taped and mudded, and a spray texture is applied. Then the new walls are primed with paint.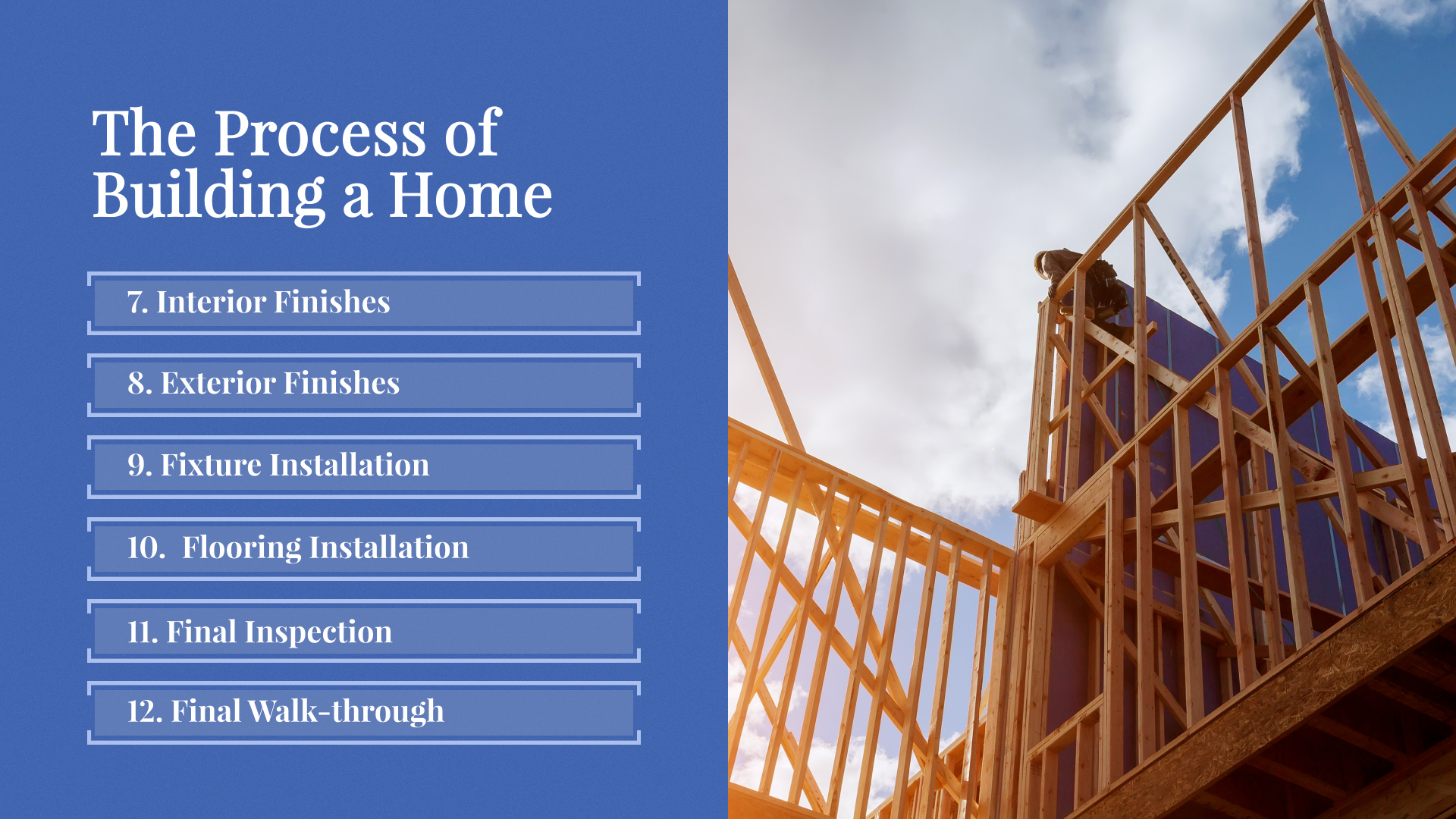 7. Interior finishes
In this step, most of the home's interior features will be added. This includes doors, baseboards, casings, window sills, stair balusters, kitchen counters and cabinets, bathtubs, vanities, and hard-surfaced flooring. Interior painting and hardwood installation are sometimes done during this step, but they may be done later if there is risk of damage due to continuing construction.
8. Exterior finishes
Driveways, walkways, patios and final grading to direct water away from home will all be completed. Landscaping and exterior decorating happen during this step too.
9. Fixture installation
With the house close to completion, toilets, faucets, light switches, heat register covers, the hot water heater, the electrical panel and the HVAC systems are all installed. Many of these items require another round of inspection. Another task that happens in this step is the installation of glass fixtures like mirrors and shower doors.
10. Flooring installation
Carpet and hardwood flooring are added in this late stage. Make sure to check with your builder on the status of your hardwood finishing process so you don't accidentally damage them.
11. Final inspection
Once construction is complete, a final inspection will be conducted by a local building official. Upon passing, you'll receive a certificate of occupancy, which gives you the green light to move in.
12. Final walkthrough
Before you move in, you'll want to do a final walkthrough with your builder to identify punch list items that need to be repaired for the job to be considered complete. Common punch list items include electrical defects like nonfunctioning outlets, damage to drywall and paint, or missing fixtures.